Home related settings are at AppearanceTheme SettingsHome.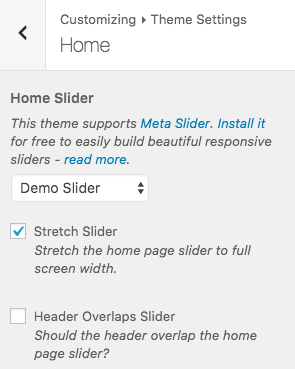 Home Slider
This setting controls the home page slider. To remove the demo slider select None from the drop-down list. To insert your slider onto the home page follow these easy steps:
1. Install Meta Slider plugin.
2. Go to Meta Slider and create a slider.
3. Go back to AppearanceCustomizeTheme SettingsHome and select your slider from the drop down list.
For a complete tutorial on this process, please see the documentation page: Meta Slider: Home Page and Page Slider.
Please note that the demo slider is unfortunately not editable.
Stretch Slider
Enable this setting to stretch your slider to full-width. Alternatively, leave this setting disabled and use the 100% width setting at Meta SliderAdvanced. The Advanced tab is found in the right column when editing a Meta Slider.
Using the Ultra stretch setting will maintain your slider height. Depending on the width of your image, it might cause slight zooming. The Meta Slider 100% width alternative won't cause any zooming but also won't maintain your slider height setting.
Header Overlaps Slider
With this setting enabled your header will be assigned an opacity of 90% and will overlap the slider.