This Customizer section is available in Ultra Premium. If you're using Ultra Free and would like to review the premium offer, navigate to Appearance > Ultra Premium from within WordPress.
The Sidebar section allows position and design changes to be made to the widget sidebar area.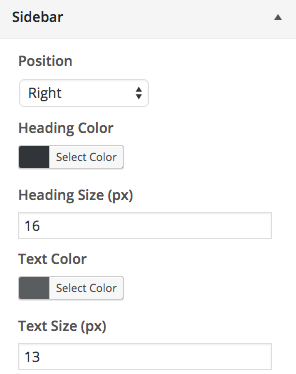 Position
By default, the sidebar is positioned on the right of posts and pages using the Default page template. Use this setting to change it to the left. If you'd like to remove the sidebar, delete all the widgets in the area and the sidebar will be removed. If you'd like to control which widgets are displayed on each post/page/area of your site, give Jetpack Widget Visibility a try.
Heading Color
The color of sidebar widget titles. Defaults to #313539.
Heading Size (px)
The font size of sidebar widget titles in pixels. Default to 16.
Text Color
The sidebar text color. Defaults to #5a5d60.
Text Size (px)
The sidebar text size in pixels. Defaults to 13.