By default WordPress comments are activated and added to each post or page. To disable comments on a single post or page, edit the post or page in question, locate the Discussion meta box below the Visual editor and uncheck the Allow comments field.

If you can't find the Discussion meta box below the Visual editor, click the Screen Options drop down at the top right of your screen and make sure that the Discussion field is checked. Remember, Screen Options don't directly control settings, they just control which settings are visible on your page. So checking or un-checking the Discussion field in Screen Options won't disable or enable comments. It'll just control whether you can see the Discussion meta box below the Visual Editor.

To globally disable comments for new pages or posts, navigate to SettingsDiscussion and uncheck: Allow people to post comments on new articles.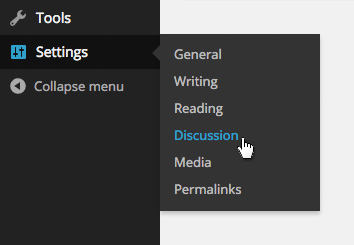 This setting only applies to new pages or posts. To disable comments for existing pages or posts, you'll need to individually do so as described above.
For more on comments, please see: http://codex.wordpress.org/Comments_in_WordPress
Disable Comments Plugin
If you'd like one simple method of globally deactivating comments in your WordPress installation you might try the Disable Comments plugin by Samir Shah. To install, go to PluginsAdd New and search (top right) for Disable Comments. Once activated go to SettingsDisable Comments and enable as required.