The WordPress Blog page is assigned from SettingsReading. If you'd like your home page to display your blog posts, select the option Front page displays – Your latest posts. This is the default WordPress option.
Alternatively, if you'd like to use a static home page and assign another page as your blog page, select the next option Front page displays – A static page (select below).
Use the drop-down menu next to Front page: to select your static home page and the option next to Posts page: to select your blog page.
Note that you must have already created your home and blog page in the WordPress Pages interface.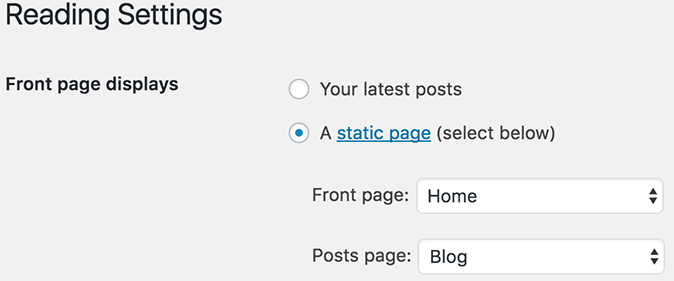 Creating Multiple Blog Pages
If you'd like to add multiple blog pages or would like to add content around your posts on the blog page, please, see our documentation page: Post Loop Widget – Add Blog Posts Anywhere.