Layout related settings are found at AppearanceCustomizeTheme SettingsLayout.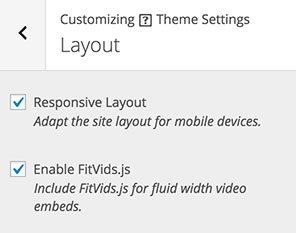 Responsive Layout
Uncheck this setting to turn off Puro's responsive layout. The site width will remain fixed on both desktop and mobile devices.
Enable FitVids.js
Puro uses FitVids.js. FitVids dynamically re-sizes videos to fit the screen being used. The downside can be that videos stretch full width, beyond the size you'd like them displayed at. It's possible to de-activate FitVids for a single video, to read more about that please see: https://purothemes.com/documentation/general-wordpress/deactivating-fitvids/. If you'd like to de-activate globally for your site, un-check this setting.