Home page related settings can be found at AppearanceCustomizeTheme SettingsHome.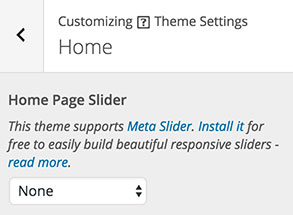 Home Page Slider
Puro has the option to integrate a Meta Slider slider on the home page. To do this you'll need to first install the free Meta Slider plugin: https://wordpress.org/plugins/ml-slider/. Meta Slider can be automatically installed from PluginsAdd New, search for Meta Slider, install and activate. Or manually by using the above link, download the ZIP file, install from PluginsAdd NewUpload Plugin.
With Meta Slider installed, go to the Meta Slider menu item in your main WordPress navigation. Click Create your first slideshow and get going from there. For a full explanation on how to create your first slideshow, please see: http://www.metaslider.com/documentation/getting-started-with-meta-slider/.

Once you've created your slideshow, go to AppearanceCustomizeTheme SettingsHome. There you'll find the Home Page Slider drop-down menu. To insert your slider on the home page, select it from the list. To remove your slider revert the drop-down back to the None setting.