This Customizer section is available in Puro Theme Premium. If you're using Puro Theme Free and would like to review the premium offer, navigate to Appearance > Puro Theme Premium from within WordPress.
The Footer section of the Customizer offers controls over font color, size, and overall padding.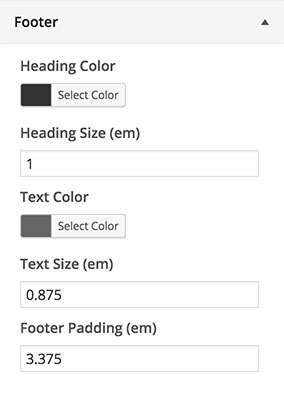 Heading Color
The heading color of footer widgets.
Heading Size
The heading size of footer widgets in ems.
Text Color
The color of footer text.
Text Size (em)
The size of the footer text in ems.
Footer Padding (em)
The padding applied to the top and bottom of the footer in ems.